Support
View basic PyMOL installation instructions. More detailed instructions are available for incentive PyMOL subscribers.
View supported operating systems and hardware.
Professional Support
PyMOL Incentive User Area - Incentive PyMOL subscribers receive access to documentation, installation instructions, and narrated screencasts through the PyMOL Incentive User Area.
Schrödinger Technical Support - PyMOL incentive subscribers can contact us with technical questions using the online contact form or by e-mailing help@schrodinger.com.
Personalized Support and Training Sessions - PyMOL representatives are available for personalized support and training sessions at your site. Contact us for more information.
Community-Sponsored Resources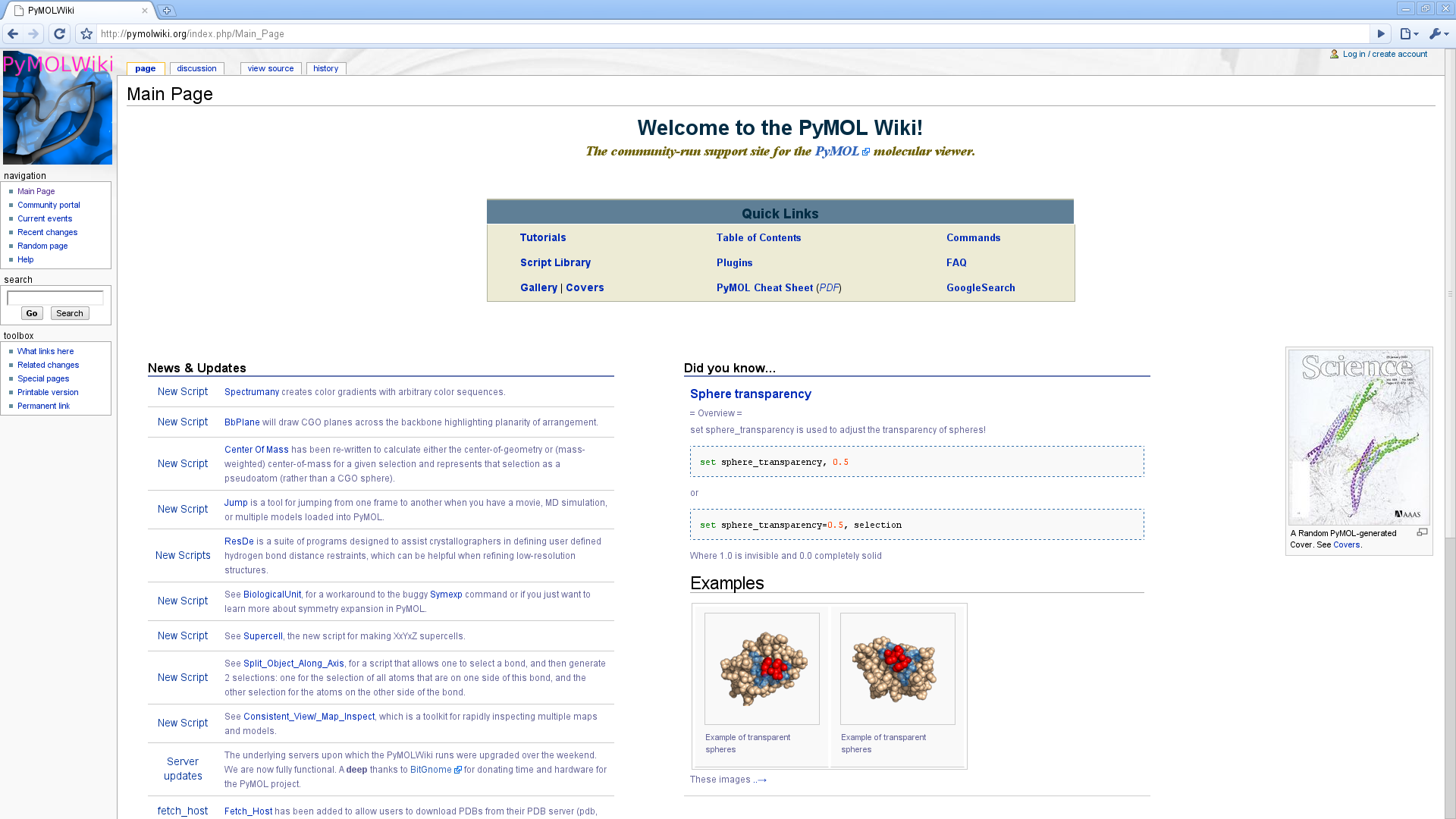 The PyMOLWiki
PyMOLWiki - Visit the PyMOLWiki for tutorials, scripts, answers to frequently asked questions, and more. A user-maintained knowledge base, the PyMOLWiki is full of helpful information.
PyMOL Users Mailing List - Users can also subscribe to the PyMOL Users Mailing List to participate in conversations with a dedicated base of knowledgeable users, and to stay up-to-date on the latest PyMOL tips and news. Thousands of archived conversations can also be browsed through this Mailing List.
Citing PyMOL, AxPyMOL, and JyMOL
Please see citation instructions for publications.
Links to External Sites
PyMOL Scripts, Programs, and Tips
Cameron Mura's PyMOL Page: includes helpful examples
eMovie: a storyboard-based tool for making molecular movies: by Eran Hodis, Gideon Schreiber, Kristian Rother and Joel L. Sussman
Robert Campbell's PyMOL Script Repository: a great collection of scripts for coloring and crystallography.
Kristian Rother's Scripts at Bioinformatik: including ScriptBox, a one-click script launching tool.
Gareth Stockwell's PyMOL Scripts at the EBI: density slider, rendering, movies, etc.
Movie HOWTO page (David Cooper)
Open-Source PyMOL Ports
Fink: Open-Source PyMOL for Mac OS X.
GNU/Darwin: Michael Love's port of Open-Source PyMOL and many other scientific software packages.
Debian:Open-Source PyMOL for Debian (Ubuntu).
Fedora Open-Source PyMOL for Fedora (RedHat).
Tools Enhanced with PyMOL: Open-Source and Open-Access
DynMap: a python- based program that generates maps of functional groups in a protein and visualizes them using dynamic parameters (Giacomo Bastianelli)
Sequence to Structure: display, manipulate, and interconnect RNA data from a sequence to structure (Fabrice Jossinet)
STRAP: sequence alignment tool (Christophe Gille)
NUCCYL: high-quality nucleic acid cartoons (Luca Jovine)
Tools Enhanced with PyMOL: Closed-Source and Restricted Access
Flexweb: Analysis of Flexibility in Biomolecules and Networks: provides PyMOL scripts for analyzing protein flexibility and dynamics.
PLANET: A Metaphorics Cabinet Server (Metaphorics LLC)
Image and Animation Galleries
The Yale Morph Server: using PyMOL for some animations.
AISMIG: An Interactive Server-side Molecular Image Generator
Software Packages that Interoperate with PyMOL
Maestro (Schrödinger): PyMOL reads Maestro files; a Maestro Plugin is available.
CCP4: a top crystallography package. PyMOL reads binary CCP4 maps.
PHENIX: another top crystallography package; PyMOL integrates with PHENIX in various ways.
CNS: another top crystallography package; PyMOL reads ASCII format CNS / X-PLOR maps.
Molscript (Avatar Software): although PyMOL supercedes Molscript in many ways, Molscript still generates uniquely beautiful geometries that can be fed into PyMOL (or Raster3D) for viewing and rendering.
MMTK: a Python-based Molecular Modeling Tool-Kit